Wednesday, May 31, 2006
How To Shop For A New Gadget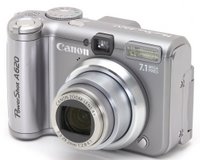 This is my new toy. It's a
Canon PowerShot A620
. I love it.
I had wanted to buy a digital camera for a long time. I've always loved photos. However, I know next to nothing about photography, so I had no idea what to look for in a digital camera. So I did what I always do when shopping for a new product. I made a list.
Lists
are helpful ways to visualize what you want. In my case, I made a list of what I wanted to be able to do with the camera, what kinds of features I wanted, and most importantly, how much I wanted to spend on the camera. It's important to decide the highest price you are willing to pay for something and stick to it. Believe me, you'll have less regrets over your purchases later if you do.
My list looked like this:
I want to be able to take high resolution photos that will print well in pretty large sizes (8 x 10, possibly larger)
The camera should be easily operated by a novice, but have enough advanced features to produce quality artistic photos once I get advanced enough
cost around $300-$350 dollars
Once I had a basic idea of what I wanted out of a camera, I moved into the
research
phase. That probably sounds scary, but it's really not. To begin with, I began looking at cameras. You can do this by either physically visiting a store or looking at cameras online. I chose both. I took a look at the features commonly available on cameras in my price range and acquainted myself with what they meant. In this stage, sites like
CNET
and
PC World
were invaluable. They both do ratings of common tech gadgets, including cameras. You can compare different cameras side by side. A caution about ratings though: you
can
get too caught up in the ratings game. Keep in mind that there's a measure of subjectivity in all such ratings. Something that's a major nuisance to the reviewer may not matter at all to you. Remember to ask yourself how
you
feel about a certain feature or lack thereof.
The next part of the research phase is to get
advice
. You need someone who knows more about the subject than you to point you in the right direction. But here's the problem. Don't rely on a salesperson at this point. I'm not saying that most salespeople aren't honest or even helpful. The problem is that they simply have a different agenda than you. Their agenda isn't making sure you're as happy as possible with your new gadget and that you don't experience any buyer's remorse. Their agenda is to make the biggest sale they possibly can. (I'm not faulting them for this. That's business, folks.) So try to find someone who knows what they're talking about who couldn't care less how much you spend on a camera. In my case, I decided to post a
question on Ask MetaFilter
to enlist the help of as many photography enthusiasts as possible. This proved to be the most helpful part of my research. The kind folks at
Ask MeFi
had lots of tips and recommendations, including
Digital Photography Review
, a great site all about digital cameras. They also helped me identify the types of photos I wanted to take, which led to me realizing that I needed a camera with good macro focus. With their help I was able to narrow down my choices to just two cameras, the Canon PowerShot A700 or the PowerShot A620. I ended up choosing the A620 because it had a bigger LCD and slightly better manual control.
So there you go. By sharing my experience with you, I've laid out exactly how to go about buying a new gadget. Just remember the three steps:
list
,
research
, and
get advice.
Follow them and you should have no problems getting the most bang for your buck.
Coming tomorrow: some pictures from my new camera and resources for beginning photographers.
Categories:
Shopping
,
How-To